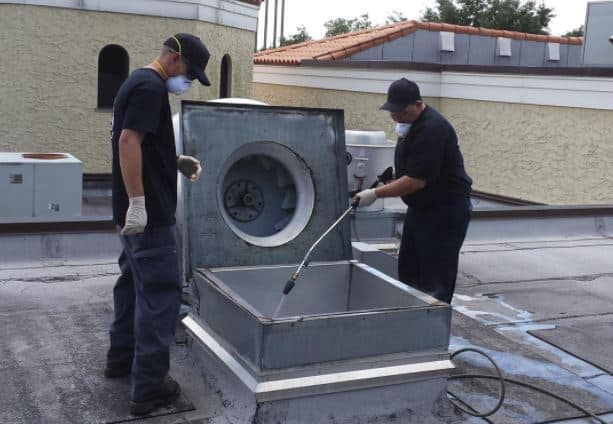 Kitchen Exhaust Cleaning Service in Utah
There's a lot to consider when it comes to hiring a capable kitchen exhaust system cleaning company. Business owners, restaurateurs, and food truck owners will want to make sure that they have experienced professionals that know what they are doing. Of course, you will also want to ensure that you are dealing with a company that takes regulation and safety very seriously and can make solid recommendations regarding how to make your kitchen exhaust system cleaning easier.
Kitchen exhaust system cleaning can be a difficult and lengthy process, and it involves removing grease that has accumulated in your business for whatever reason. This grease is often found in ducts, fans, hoods, and other areas of your kitchen system.
How often should you be considering kitchen exhaust system cleaning? The real answer is that there is no "one size fits all" solution here. It depends on a number of factors, such as what kind of food you are cooking, and how often you are cooking it. If you are cooking on a regular basis, you might want to consider kitchen exhaust system cleaning on a monthly basis. You should also consult with local laws and regulations regarding kitchen exhaust system cleaning requirements.
Utah Hood Cleaning definitely has the experience and expertise to help you with all of your kitchen exhaust system cleaning needs. We believe in offering affordable rates to business owners and doing the best business possible, so that you continue to contact us for your kitchen exhaust system cleaning needs.